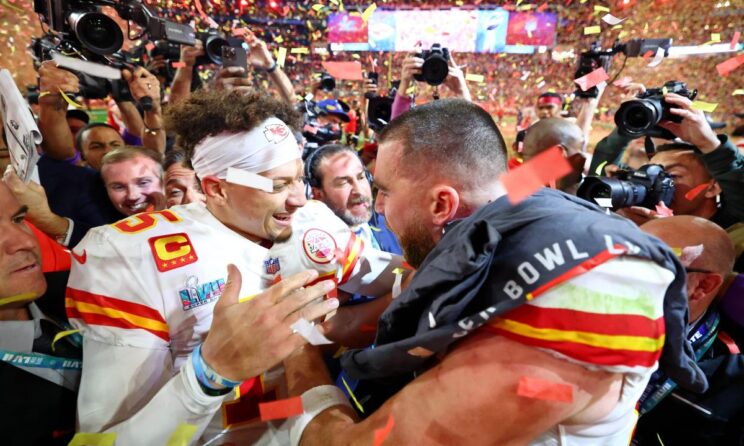 On one leg, Patrick Mahomes finished the job. His reward, other than resting an oft-injured ankle this postseason, is a second Lombardi Trophy for the reigning NFL MVP.
The Kansas City Chiefs defeated the Philadelphia Eagles 38-35 in Super Bowl 57 on Sunday, the team's second title in four seasons. A controversial holding penalty by Eagles cornerback James Bradberry gave the Chiefs a chance to run the clock down and kick a game-winning field goal with eight seconds left, which Harrison Butker nailed from 27 yards.
Mahomes finished 21 of 27 for 182 yards with three touchdowns. Kansas City scored a touchdown on its first three drives of the second half after trailing at halftime 24-14.
Eagles quarterback Jalen Hurts was 27 of 37 for 304 yards passing, but was a force on the ground. He rushed for three touchdowns (15 carries, 70 yards) and tied the game at 35 on a two-point conversion with about five minutes left.
Chiefs tight end Travis Kelce (six catches, 81 yards, touchdown) bested his brother, Eagles center Jason Kelce, on the game's biggest stage, while Chiefs coach Andy Reid defeated his former team.
Chiefs win Super Bowl 57: Patrick Mahomes and Co. capture second title in four seasons
This is like watching Michael Jordan in his prime. Patrick Mahomes is 27. He's on a team-friendly contract. In the five seasons he has been starter, the Chiefs have made it at least to the AFC title game. As long as Mahomes is under center, this will be the standard. He won his second Super Bowl MVP days after he won his second league MVP.
Mahomes had his right ankle injury reaggravated late in the second quarter when Eagles linebacker T.J. Edwards fell on it as he dragged him to the turf. Ho hum. All Mahomes did after the injury was complete 13 of 14 passes for 93 yards and a pair of scores. As if that wasn't enough, with 2:55 left to play in a tie game, he outran the Eagles defense on a 26-yard scramble that set up the game-winning field goal.
Story continues
Read Lorenzo Reyes'…
..