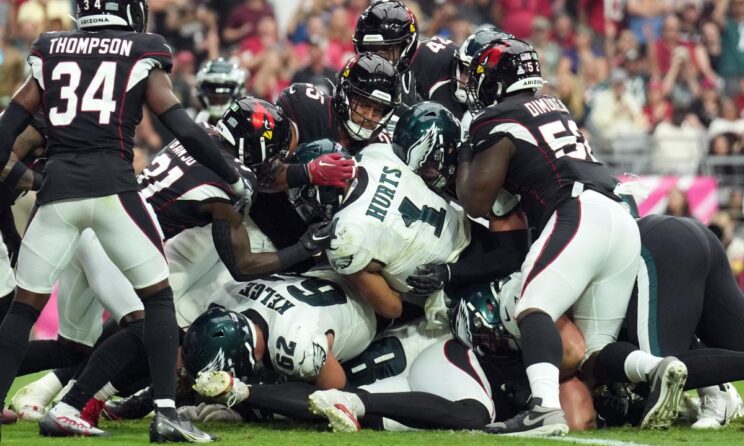 Photograph: Joe Camporeale/USA Today Sports
The Eagles have turned the quarterback sneak into the least sneaky play in the playbook. There was no mystery about what Philadelphia were planning when Jalen Hurts lined up with nine teammates between the hashes on the San Francisco one-yard line in the NFC Championship game, half of the group in four-point stances.
Nor did the call change after the 49ers stopped Hurts for no gain. One play later, from an identical formation, Philly's quarterback took the snap and plunged forward to his left, forcing his way into the end zone with some help from tight end Dallas Goedert and running back Boston Scott behind him, shoving him over the line.
It is a strategy they have used all season, to punishing effect. Eagles center Jason Kelce channels Anchorman with his line that "92% of the time, it works every time," but the real numbers aren't far off. During the regular season, the Eagles converted 29 of their 33 quarterback sneaks into first downs or touchdowns.
No team has ever used the play so prolifically. When the NFL's Football Operations team dug into the data three years ago, they found that Tom Brady led the league with 157 sneaks since 2001 – 85 more than second-placed Drew Brees. To frame that statistic in a different way: even the league's "Master of the QB sneak" averaged fewer than 10 a season.
"I like the way they're doing it," said Brady when he was asked about the Eagles' approach in December. "They're kind of making it like a rugby scrum a little bit, putting a lot of bodies in there, which is kind of a new take on it."
Related: Super Bowl LVII: the fruitless quest to find a flaw in Patrick Mahomes's game
More than a scrum, the closer parallel in rugby union may be a maul, when a ball-carrier is held by an opponent but has not yet gone to ground. Teammates bind together around them, overlapping arms and grabbing each other's shirts to create an overwhelming mass of bodies that keeps…
..