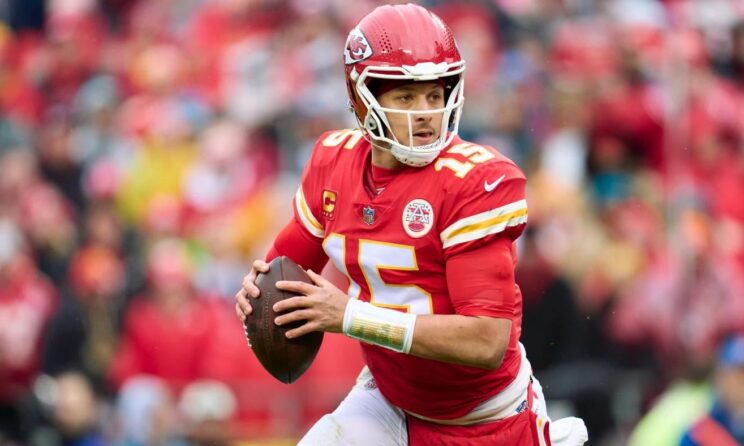 Kansas City Chiefs quarterback Patrick Mahomes practiced fully again Thursday after being a full participant in Wednesday's session. Head coach Andy Reid made it seem as though the 2022 First-Team All-Pro quarterback won't be very limited in the AFC Championship game against the Cincinnati Bengals on Sunday.
"He felt good in the walkthrough," Reid said of Mahomes on Thursday, ahead of the practice session. "He's on track. His feet are doing OK right now, so he still can move then. So he's not just throwing with all arm. But he's got a good enough arm. You've seen him do it even when there's no ankle issue, so he'll throw some balls where he's flat-footed."
Reid thought Mahomes did a "nice job" in practice Wednesday and felt comfortable with what was being asked of him. Mahomes felt he had a good day as well, even saying he felt "probably better than I expected." Overall, it's been a positive stretch for Mahomes, who left his press conference Wednesday without either a walking boot or a noticeable limp.
"I still feel like I can do a lot of things," Mahomes said Thursday. "We'll see as we get closer and closer — and we'll see during the game. You can't fully do exactly what you're going to be in those moments in the game, but all I can do is prepare myself the best way possible — and then, when we get in the game, you hope adrenaline kind of takes over and you can make those throws when you need to."
However, he still isn't sure how close he will be operating to his full capacity come Sunday evening. 
"We'll see during the game," Mahomes said when asked what he thinks he will be able to do against the Bengals. "All I can do is prepare myself as much as possible. I'm going to prepare my body the best way during the week to be in the best position possible."
He said his rehab continues with "one of 8,000 different devices" to speed up his recovery when he eventually leaves the…
..