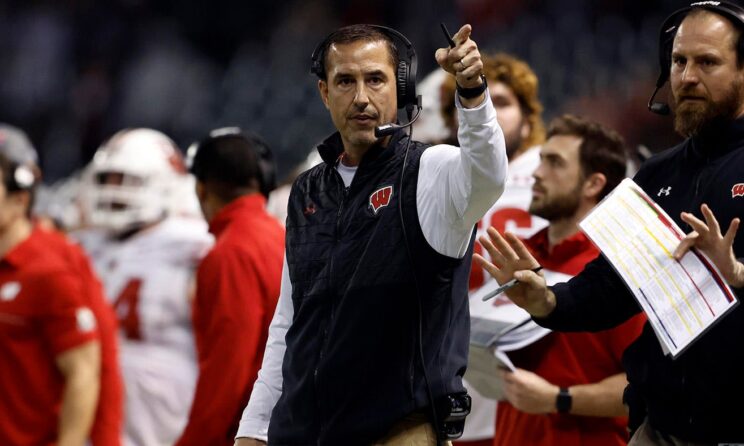 What an interesting time it is for the Wisconsin Badgers. The program has become a model of consistency over the last 30 years. Wisconsin was mostly an afterthought in the Big Ten when Barry Alvarez took over the program in 1990 but has since become one of the conference's stalwarts, even as the Big Ten has undergone massive changes itself.
Things will look quite a bit different in 2023, however. While Wisconsin changed from Alvarez to Bret Bielema and then to Paul Chryst — with an odd Gary Andersen experiment thrown in — the formula essentially stayed the same. Wisconsin was big beefy boys doing beefy boy things. This was a program of multiple tight-end sets, 220-pound battering ram running backs and ferocious defensive fronts. It wasn't 3 yards and a cloud of dust as much as it was 3 yards and a world of hurt.
But, for whatever reason, the blueprint that had long been successful lost steam in 2022. After a 2-3 start to the season, Paul Chryst was fired following a 34-10 home loss to Illinois. Jim Leonhard, the former Badger and defensive coordinator long assumed to be a head coach in waiting, was named interim. Leonhard did not get the full-time job, however. Instead, Wisconsin went outside the family and brought in Luke Fickell, the former Ohio State linebacker who led Cincinnati to the College Football Playoff.
After three decades of knowing what we would get from Wisconsin, this spring offers a lot of questions we don't have the answers to yet.
Offseason changes
It'd probably take less time to write about what hasn't changed. Paul Chryst is gone, as is most of his staff. Fickell has arrived, and he's not only bringing in a new staff, but a new approach. The ground-and-pound style associated with Wisconsin football is gone. The…
..