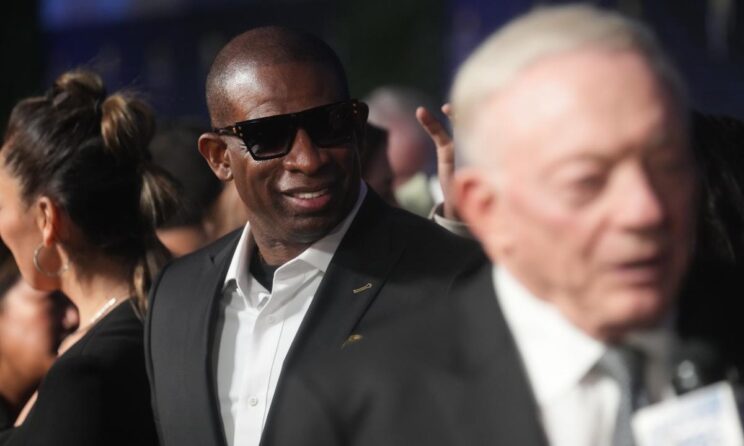 Recruiting season never seems to end for new Colorado football coach Deion Sanders.
Even after he announced a top 25 class of newcomers last week on national signing day, "Coach Prime" once again took advantage of his celebrity and national platform to make a pitch for the Buffaloes in Boulder.
This time, he was on stage presenting an award at the NFL Honors ceremony Thursday in Phoenix, near the site of the Super Bowl Sunday in Glendale, Arizona. The event was televised nationally by NBC.
"I would be remiss if I didn't take this opportunity to recruit," Sanders said, generating  laughter from the crowd of NFL luminaries.
Sanders then said Dallas Cowboys owner Jerry Jones told him he could he borrow "The Star" for his recruiting efforts – a reference to Cowboys' team headquarters in Frisco, Texas. Sanders also said Jimmy Johnson, the Pro Football Hall of Fame coach, was going to help him out with prospects, too.
"I need all your cousins … your nephews, send 'em right to Colorado," Sanders said. "We good? We don't have no NIL money, either, by the way."
Sanders, also a Pro Football Hall of Famer, publicly has downplayed "NIL money" in his recruiting messages – meaning income players now can earn from their names, images and likenesses (NIL).
He's a celebrity NIL man himself as a pitchman for Avocados From Mexico, Aflac insurance and Oikos yogurt.
But he said it last week: "If you're here for NIL, or to be rich, we're not the school for you."
He instead has used his celebrity and personality to draw recruits, dramatically amplifying Colorado's national brand by appearing on several national television shows since his hiring was announced at CU in early December.
He also has used his social media platforms to continue his recruiting pitch to recruits in several states, including in Georgia, Louisiana and Texas.
'We're not here for the NIL. We're here for the NFL': Deion Sanders makes bold statement with huge first…
..