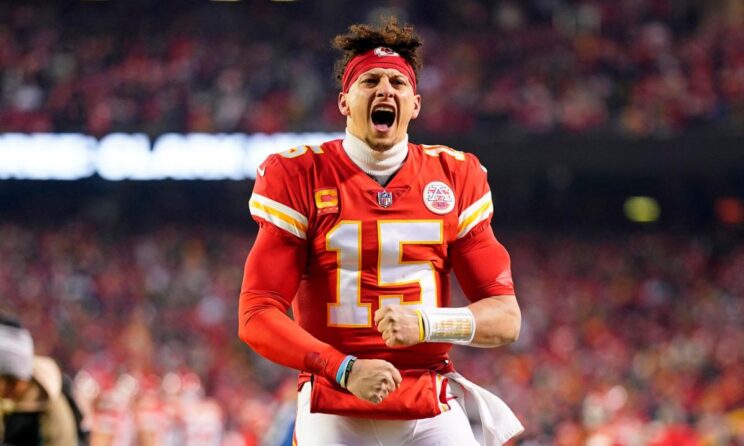 Photograph: Jay Biggerstaff/USA Today Sports
The Philadelphia Eagles will try to do the impossible on Sunday: expose a flaw in the seemingly flawless.
Even the greatest usually have some shortcomings in their game that the opposition can expose. Tom Brady was slow. Brett Favre was reckless – in more ways than one. Drew Brees was small. John Elway was accurate, but not always precise.
And then there's Patrick Mahomes. Five years into his career, there are no imperfections left in his game. As far as quarterbacking goes, he's conquered it.
On Sunday, he'll play for a second title with the Kansas City Chiefs. By then, he'll almost certainly have claimed his second league MVP award – and he could have added a couple more during the years he narrowly missed out. He has never played a road playoff game, and has guided the Chiefs to five straight AFC championship games. As raw output goes, he's off to a quicker start to his career than Dan Marino, Peyton Manning and Brady.
Most standout athletes turn into myths after they've retired– Jordan, Senna, Graff. But at 27, Mahomes has already reached the LeBron zone – one it took James a decade to construct. His excellence – his all-time greatness – is so clear, so obvious, so damn early that it's in danger of being overlooked.
Related: Are the Eagles so talented that anyone could coach them to the Super Bowl?
What else is there left to say? He has bent the boundaries of what is plausible. He is the most creative, atypical quarterback in league history. He broke the paradigm, proving that tippy-tappy footwork in the pocket was not the only way of doing things – better to combine that footwork with a slinky release and agility that can evade the pass-rush.
Underarm throws, no-look passes, sidearm flicks, crossbody heaves, the impossible feels inevitable with Mahomes at the wheel of the offense.
As he has matured, he has sanded off any rough edges. He used to be reckless. He used to struggle with certain…
..