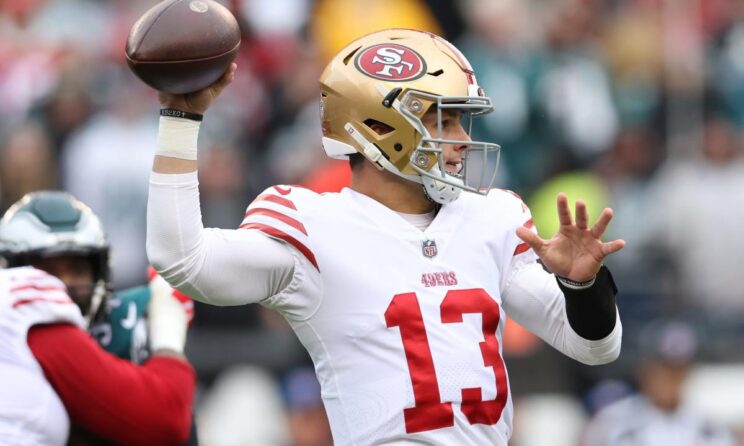 PHILADELPHIA – "When you have two quarterbacks, you have none."
It's one of those longstanding NFL maxims – who knows who first uttered it? – that pithily suggests that if you don't have a star, or at least an established passer, under center, then your team is up a creek.
But the San Francisco 49ers turned the phrase on its head during the 2022 season, riding a trio of QBs to the NFC West title, which included a 12-game winning streak that extended into the playoffs. Unfortunately for them, the Niners proved during Sunday's 31-7 loss to the Philadelphia Eagles in the NFC championship game that, "When you have to use your fourth-string quarterback, you have no chance."
HOW IT HAPPENED: Philadelphia dominant in 31-7 trouncing of San Francisco
ANALYSIS ON AFC TITLE GAME: Everything to know for Bengals-Chiefs
San Francisco's season finally unraveled on its first offensive possession Sunday when Brock Purdy, "Mr. Irrelevant" as the final selection of the 2022 draft but vying to become the first rookie quarterback to guide his team into the Super Bowl, injured his throwing elbow while being sacked by linebacker Haason Reddick.
San Francisco 49ers quarterback Brock Purdy injured his elbow during the NFC championship game.
A few practice throws and multiple trips to the medical tent seemed to effectively signal Purdy's day was over, though he was forced to return in the second half after QB4 Josh Johnson suffered a concussion. But by that point, San Francisco trailing 21-7 and Purdy effectively unable to throw the ball more than a few yards, the Niners' season was effectively over.
Yet it's amazing they made it this far – and coach Kyle Shanahan and general manager John Lynch deserve all the credit for resourcing and managing a position that devours the salary cap and depth chart for so many clubs. San Francisco was on the verge of becoming the first squad in six years to reach the Super Bowl while starting three quarterbacks in the regular season.
Now the Niners…
..