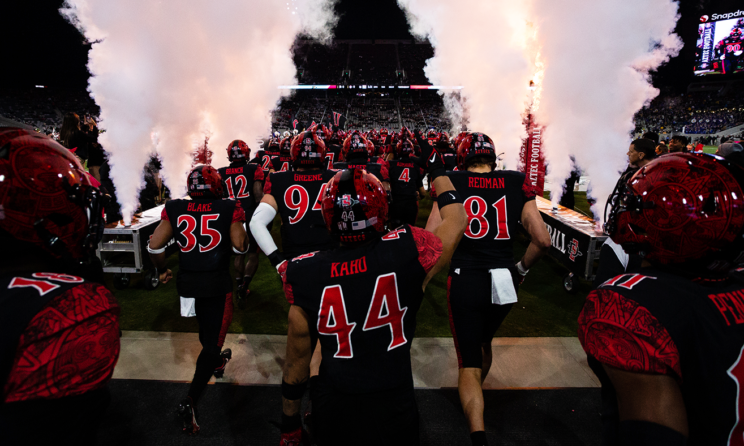 SAN DIEGO — J.D. Wicker is standing on the top concourse of one of the biggest parties in the country. What else would you call San Diego State's new stadium, which equates to the latest lob pass for what the school hopes is a slam-dunk entry into the Pac-12?
On its best day, which projects to be every game day , college football is almost a sideshow in new Snapdragon Stadium. The main event is the craft brew-infused vibe that San Diego State's athletic director has, well, crafted.
"There's more bars in that stadium than there are in most cities," said Aztecs coach Brady Hoke.
That isn't entirely why San Diego State enters 2023 as the next hottest realignment candidate, but elite concessions certainly do not hurt. Taps or no taps, Wicker's vision of a 35,000-seat boutique stadium reflecting the city's culture, history, food and brew — built on one of the country's most expensive pieces of real estate — was going up regardless.
Snapdragon opened last year on time and under budget — rebranding, renewing and rallying a 126-year-old institution. At the same time, in and around "America's Finest City," the planets have (re)aligned. When USC and UCLA left for the Big Ten, San Diego State in a flash became the best, brightest, most geographically desirable school to fill what is now a gaping hole in Southern California for the Pac-12.
After years of priming itself in hopes the West Coast's flagship conference would notice, SDSU doesn't have to flirt anymore. The moment has met SDSU, roaring down I-5 from Los Angeles to meet the school on what seems to be the Aztecs' terms.
"We basically went from, 'Hey, you're doing a good job. Your break is coming,' to, 'You're the only team in Southern California that plays FBS football that isn't in…
..