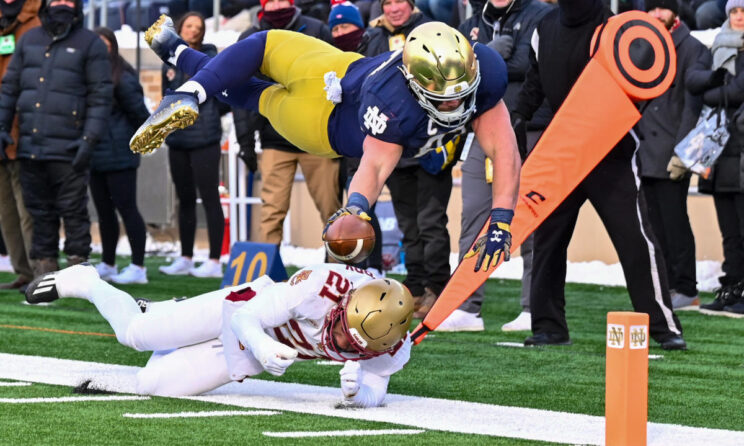 Our friends over at Touchdown Wire have a new three-round mock draft out and with excitement building for the 2023 NFL draft, we decided to take a look. We have to admit, this one went way off script and took us completely by surprise.
First round – CB Kelee Ringo, Georgia
News Joshua L Jones
Second round – TE Michael Mayer, Notre Dame
Gary A. Vasquez-USA TODAY Sports
Second round – C Joe Tippmann, Wisconsin
Third round – OT Matthew Bergeron, Syracuse
(AP Photo/Timothy D. Easley)
Breakdown
OK, there is a lot to unpack here so let's start at the end and work backwards. I like Matthew Bergeron and think he will be a very good starting right tackle. But I'm not sure he's ready to contribute as a rookie so making him your single offensive tackle pick in the first three rounds means the team is planning to address the need via free agency.
Moving to the second pick of the second round, again like Bergeron, we like Joe Tippmann. Hard-nosed and very much a Steelers type of player. But with the addition of Herbig and Seumalo, I'm not sure what they do with him this year. Mason Cole will be back as the starting center and if he isn't, it will be because James Daniels moves over and the new guards will take over the starting spots.
Now we come to the big one. Giving the Steelers a tight end, even a really good one with the No. 32 overall pick might send the entire city of Pittsburgh a heart attack. There are a dozen guys who are taken after Notre Dame tight end Michael Mayer who can help this roster more. Not to mention he's the third tight end taken. Complete lack of value there.
In the first round, I don't hate Kelee Ringo as a pick. His man-coverage skills are great and he's a ridiculous athlete. He needs a lot of coaching and is quite raw but again this is more about value. Ringo is the fourth cornerback on the 2023 roster. Is that how you use the No. 17 pick for a team on the verge of returning to the playoffs?
Let us know in the comments what you think of this…
..