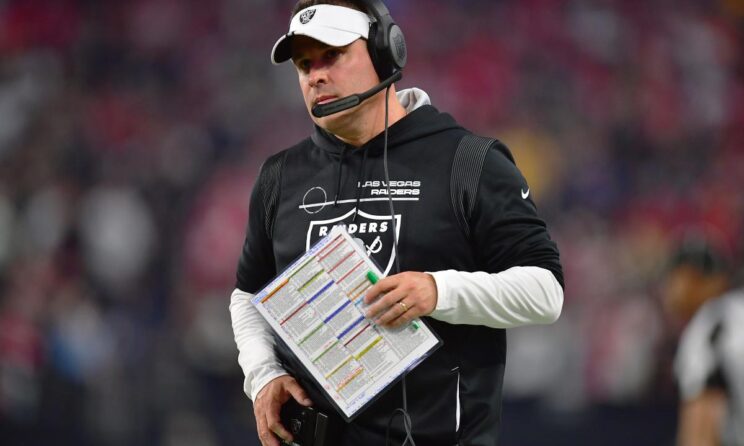 The AFC West boasts quarterbacks Patrick Mahomes, Justin Herbert and Russell Wilson. The Las Vegas Raiders, who are in the same division, currently have Chase Garbers as their only quarterback under contract for 2023. Raiders coach Josh McDaniels declared Tuesday the team is in the process of upgrading their quarterback room.
"I think there's always urgency at that position. You know, look, the goal for us eventually is to have somebody that's going to be here for a long time. I think that, you know, you see the teams that are having success right now in our league, I would say in our conference, and specifically in our division, you know, they're young players that were drafted by their clubs and they're being developed there under the same continuity," McDaniels said at the NFL combine. "We're going to do everything we can do to evaluate every player at that position, both in the draft and free agency and try to do what we can do to improve the room. I mean, there's certainly going to be a number of players added at that position."
Las Vegas Raiders head coach Josh McDaniels, shown during a Jan. 1, 2023 game.
The Raiders released veteran quarterback Derek Carr in February after nine seasons with the Silver and Black, which created a glaring hole at QB. Las Vegas is exploring a variety of options to fill the position.
The Raiders were rumored to be interested in Tom Brady before the seven-time Super Bowl champion retired. Las Vegas is also currently linked to Aaron Rodgers if the four-time MVP leaves the Green Bay Packers. Then there's always the conventional route by way of the NFL draft.
NFL MOCK DRAFT: Who's on the rise ahead of pre-combine workouts
2023 DRAFT CLASS: The 10 most intriguing prospects for April
FALCONS: Cut Marcus Mariota; 'door open' to take QB with No. 8 pick
Las Vegas owns the No. 7 overall pick in the 2023 draft; a prime spot to select one of the top quarterback prospects in this year's draft class. Although, there are multiple teams…
..