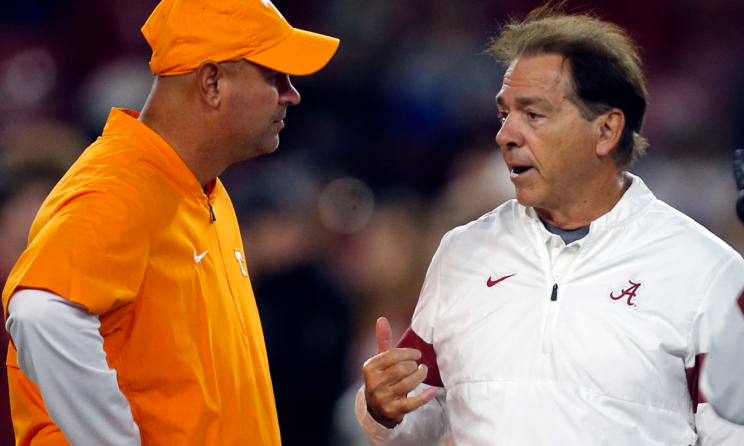 Alabama coach Nick Saban has reached out to former Tennessee coach Jeremy Pruitt regarding the Crimson Tide's vacant defensive coordinator position, sources tell CBS Sports. It is believed no offer has been made at this time, and Alabama would not speak on Pruitt's candidacy when contacted for comment.
Sources indicate Pruitt would face long odds to getting hired by the Tide as the subject of an ongoing NCAA investigation. He was fired at Tennessee two years ago as the NCAA levied allegations of 18 Level I violations on the Volunteers. Level I violations are most serious on the NCAA's scale of infractions.
There has been widespread speculation that Pruitt would be involved in Saban's search to replace Pete Golding, who left for the same position at Ole Miss earlier this month. Golding was not expected to be retained by Alabama.
Pruitt's candidacy is questionable as it is unknown whether he would be allowed to accept the job if offered. 
SEC Bylaw 19.8.1.2 requires any SEC school that "considers hiring an individual … who has participated in activity that resulted, or may result, in a Level I, Level II, Level III or major infraction" to have its president or chancellor "consult directly with the Commissioner prior to offering employment to the individual."
While that language does not directly disqualify Pruitt, Alabama would need to consult with SEC commissioner Greg Sankey before making the hire.
"We have a specific bylaw that defines there has to be a consultation," Sankey told reporters earlier this month. "It's not an approval process. Our campuses — despite whatever mythology may exist — make their own personnel decisions. But we provide, for any hiring decision, here's the background from a compliance standpoint."
…
..