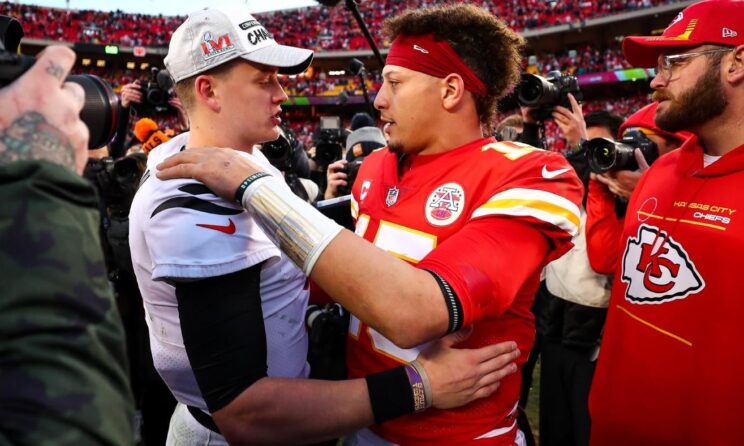 Given what we witnessed during the first 20 weeks of the 2022 NFL season, fans could be in for an extremely memorable championship weekend. 
The four survivors from last weekend's divisional round — the 49ers, Eagles, Bengals and Chiefs — will play this weekend for the right to represent their respective conferences in Super Bowl LVII. Among the big storylines entering championship weekend include the Bengals' quest at a second consecutive Super Bowl appearance, Patrick Mahomes' injury status following Saturday's win over the Jaguars, and the continued — and unexpected — success of 49ers rookie quarterback Brock Purdy. 
There's a very good chance that one or both of this weekend's games will one day crack the following list of the greatest conference championship games in NFL history. Several all-time classics made the list, including the 2021 overtime thriller between Cincinnati and Kansas City.  
20. 1999 NFC Championship: Rams 11, Buccaneers 6 
While obviously not a barn burner, the Rams-Buccaneers NFC title game showdown was a masterpiece for fans of defense. Led by future Hall of Famers Warren Sapp, John Lynch and Derrick Brooks, the Buccaneers shut down the Rams' "Greatest Show on Turf" offense for most of the game. With the Rams' defense also playing lights out, the Buccaneers' defense would need to shutout one of the greatest offenses of all-time in order to reach the Super Bowl. 
Unfortunately for them, the Buccaneers were victims of a perfectly-thrown pass from Kurt Warner that fell into the waiting arms of Ricky Proehl, whose 44-yard touchdown catch propelled the Rams to the Super Bowl. 
19. 1983 NFC Championship: Washington 24, 49ers 21 
The two most recent Super Bowl champions, Washington and San Francisco battled for the right to face the Raiders in Super Bowl XVIII. Down 21-0, the 49ers staged an epic rally behind Joe Montana's three fourth quarter touchdown…
..