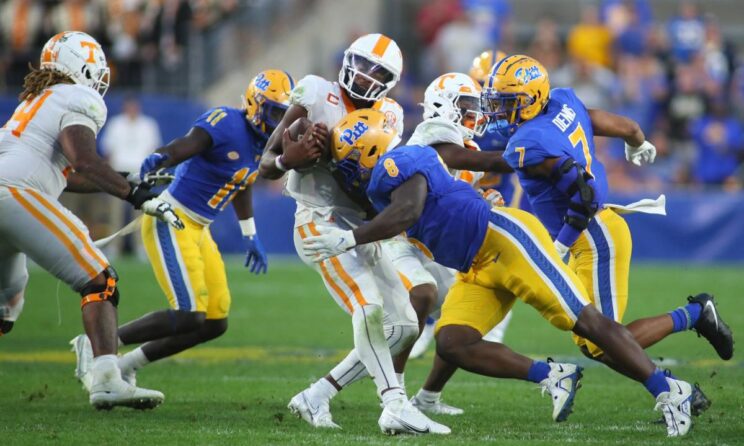 The 2023 NFL draft is fast approaching and even with the Eagles preparing for the NFC Championship Game, scouts within the organization are doing their due diligence on potential prospects.
Thanks to some draft night wizardry from Howie Roseman, the Eagles traded the No. 16 overall pick, No. 19 overall pick, and a 2022 sixth-round pick to the New Orleans Saints for the No. 18 overall pick, a 2022 third-round pick, a 2022 seventh-round pick, a 2023 first-round pick, and a 2024 second-round pick.
We tracked the Eagles' picks via Tankathon, and after New Orleans went 7-10, Philadelphia locked down a top-ten selection.
ESPN's legendary draft guru, Mel Kiper, Just released his first mock draft of 2023, and he has Philadelphia reloading on defense with their two first-round picks.
10. Philadelphia Eagles (via NO) Calijah Kancey, DT, Pitt
Pittsburgh Panthers Vs Tennessee Volunteers
A talented defender, Kancey would be the shortest defensive tackle on the Eagles' current roster.
The Miami, Florida native was a unanimous All-American, the 15th in Pitt program history, and the first player to accomplish the feat since Aaron Donald (2013).
Kancey recorded 31 tackles, 14.5 tackles for loss, and 7.5 sacks in 11 games.
Kancey's 2022 tape is extremely impressive, and I moved him way up my Big Board. He wreaked havoc the past two seasons, racking up 13.5 sacks when lined up as a defensive tackle, the most in the country. At 6-foot, 280 pounds, he's undersized, but so was former Pitt tackle Aaron Donald. (To be clear, he's not Donald, but he's still pretty good.) We know Philadelphia general manager Howie Roseman invests heavily in the D-line, and Kancey would fit next to 2022 first-rounder Jordan Davis.
30. Philadelphia Eagles Brian Branch, S, Alabama
Mandatory Credit: Andrew Wevers-USA TODAY Sports
Kiper has Philadelphia using their second first-round pick on a versatile safety from Alabama.
Philadelphia made a preseason trade to acquire safety C.J. Gardner-Johnson, but he…
..